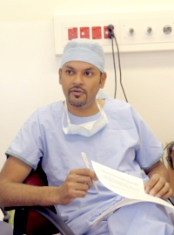 Dr Glen Fernando
MBBS (First Class Honours), FRANZCO

Cataract, Refractive Surgery, Anterior Segment Surgery, General Ophthalmology
Dr Glen Fernando is a comprehensive eye specialist with special interests in Cataract, Anterior Segment Surgery, and Refractive/ Laser Eye Surgery.
Dr Fernando graduated from his Bachelor of Medicine and Bachelor of Surgery degree at Sydney University in 1996 with First-Class Honours. He won the Undergraduate Academic Prize in Ophthalmology for finishing first in his class.
From 2000 to 2002, Dr Fernando trained in Ophthalmology at the Royal Victorian Eye and Ear Hospital, gaining experience in several ophthalmic sub-specialities, including Cataract, Glaucoma, Cornea, Medical Retina, Neuro-Ophthalmology and Oculoplastics.
In 2003, Dr Fernando undertook a busy Fellowship at Royal North Shore Hospital, under the mentorship of Dr Michael Lawless (Cornea, Cataract), Dr Tim Roberts (Glaucoma, Cataract), Dr Brett O'Donnell (Oculoplastics), Dr Kim Tan (Neuro-Ophthalmology), Dr James Smith (Paediatrics), and Dr Michael Branley (Medical Retina and Vitreo-Retinal Surgery). He subsequently undertook further training in Refractive/ Laser Eye Surgery.
He is a member of the Royal Australian and New Zealand College of Ophthalmologists, the Australian Society of Cataract and Refractive Surgeons, the Australian Society of Ophthalmologists, the Independent Ophthalmic Network, the Rural Doctors' Network, and the Australian Medical Association.
Dr Fernando is an experienced, highly competent eye surgeon, having performed over 14,000 eye surgeries to date, and is proud of the excellent results which are achievable with today's exciting technologies.

He is a Visiting Medial Officer at Bathurst Base Hospital, Bathurst Private Hospital (formerly St Vincent's Private Hospital), Lithgow Community Private Hospital and Lithgow District Hospital. He is a member of the Medical Advisory Committee at Bathurst Private Hospital.
Dr Fernando has written many scientific papers which have been published in the international ophthalmic literature. He has presented at/ attended many scientific meetings both in Australia and internationally which enables him to stay current with the latest advances in ophthalmic technology, surgery, and therapeutics.
Dr Fernando is the principal of Specialist Eye Centre, establishing it to provide high quality ophthalmic care to residents of the Central West through to the Blue Mountains. He has been resident in Bathurst since 2004, and is committed to providing specialist eye care utilising the latest technology in a friendly and professional environment.