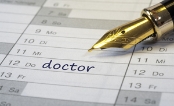 To make an appointment at Specialist Eye Centre, phone 02 6331 3989 and one of our friendly staff will discuss your requirements.
Please be sure to inform them if you are attending for a Laser Vision Correction / Refractive surgery assessment, as special times are set aside for these rather detailed consultations.
Referral Requirements
(for all consultations other than Laser Vision Correction / Refractive Surgery)
Before you attend the Specialist Eye Centre, it is desirable that you obtain a referral from either your general practitioner, optometrist, or other medical specialists.

If you are covered by Medicare, your referral will enable you to claim the maximum Medicare benefit.

In some cases, your referral may provide our practitioners with useful information about your medical history that may help us with your diagnosis and treatment.
Please note: referrals are not required for Laser Vision Correction / Refractive surgery assessments.
New Patient Registration Forms

If you are a new patient to the practice, you will be sent an Introduction Letter and a Patient Registration form. It would be helpful if you could fill out the form prior to your appointment and bring it with you, as it will streamline your appointment.
Alternatively you can download the form here.